Mobile Banking

Manage your TFB personal accounts from your mobile device anytime, anywhere with TFB Mobile Banking. The TFB Mobile Banking app is free to download and offers a user-friendly design that makes it easy to manage your bank accounts on the go.
TFB Mobile Banking offers these valuable services FREE!*

Check account balances with Instant Balance
View pending and posted account activity anytime, anywhere-24/7
Transfer funds between your TFB accounts
Pay bills and edit or cancel scheduled payments**

With TFB Mobile, it's easy to track, schedule and manage all your bills from your mobile device. Use Bill Capture to take a picture of your bill and pay it at the same time.

Send money to anyone you know with Zelle®

Whether it's saving you a trip to the ATM or taking out the guesswork of divvying up the lunch tab, Zelle® is a fast, safe and easy way to send and request money. Funds are sent directly to the recipient's account in a matter of minutes, and all you need is the recipient's email address or U.S. mobile phone number.

Eliminate trips to the branch with Mobile Deposit***

Making a deposit with our mobile app is quick and secure. TFB Mobile Deposit saves you time and trips to the bank. Great for personal and business use--you have access to a TFB branch on your mobile device!
Just sign in to the TFB Mobile app, choose Deposit, select an account, enter the amount, endorse your check and write TFB MOBILE beneath your endorsement. Use the built-in photo frames to take pictures of the front and back and tap Submit – that's it! Funds are available in 1 to 2 business days. Keep the original check until your deposit is posted. See your deposit status and review recent deposit history too.

Set up customized Alerts

Custom alerts with TFB Mobile allow you to enjoy peace of mind wherever you go. Monitor account balances and activity, receive deposit and withdrawal notifications and much more.
CardGuard:
Manage your TFB debit cards with TFB Mobile & CardGuard--Protection for your TFB debit cards at your fingertips.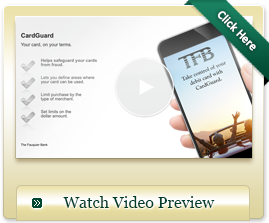 CardGuard allows you to turn debit card "on" or "off" anytime. When they're "off" no one can use your cards. Turn them "on" when you're ready to use them.
Helps safeguard your cards from fraud

Lets you define geographical areas where your card can be used

Limit purchases by the type of merchant

Set limits on the dollar amount of purchases
Review transaction details
Change your debit card settings--Instantly!
CardGuard is available to all TFB Mobile users. It's an easy-to-use powerful tool designed to put you in control of when, where and how you use your TFB debit card. It can also be useful for controlling the way dependents can use a debit card you give them. In addition to the ability to turn your cards "on" or "off" for all transactions, you can also:
Limit the transactions to a geographic area
Limit the type of merchant where the card can be used
Limit the dollar amount for any transaction
Get mobile alerts when anyone attempts to use the card outside your limits
With TFB Mobile you can also find our branches and hours if you need to stop by.
Learn more about TFB Mobile Banking
For more information about TFB Mobile Banking and Tablet Banking, please contact us.
Apple Pay™ Cashless, Contactless made effortless.
Apple Pay™ is easy and works with the Apple devices you use every day. You can make secure purchases in stores and in apps using your iPhone or Apple Watch and on the web. You can send and receive money from friends and family right in Messages. Apple Pay is even simpler than using your physical card, and safer too. Using Apple Pay with your iPhone or Apple Watch is faster than using a credit or debit card. Because spending money shouldn't mean spending more time at the register.
See where you can use Apple Pay™
Google Pay™ A better way to pay, by Google
Google Pay™ is the fast, simple way to pay on sites, in apps, and in stores using the cards saved to your Google Account. It protects your payment info with multiple layers of security and makes it easy to send money, store tickets, or cash in on rewards – all from one convenient place.
*TFB does not charge fees to download or use TFB Mobile and Tablet Banking. Mobile carrier charges for text messaging and web access services may apply. Please check with your carrier for more information.
**Personal Online Banking customers must first setup bill pay accounts prior to using these features. TFB does not charge a fee to use mobile capture deposit.
Apple, and iPhone®, are trademarks of Apple Inc., registered in the U.S. and other countries. App Store is a service mark of Apple Inc. Android™ and Google Play™ are trademarks of Google Inc.